FEITIAN MFA Cryptographic Module has achieved the FIPS 140-2 level 2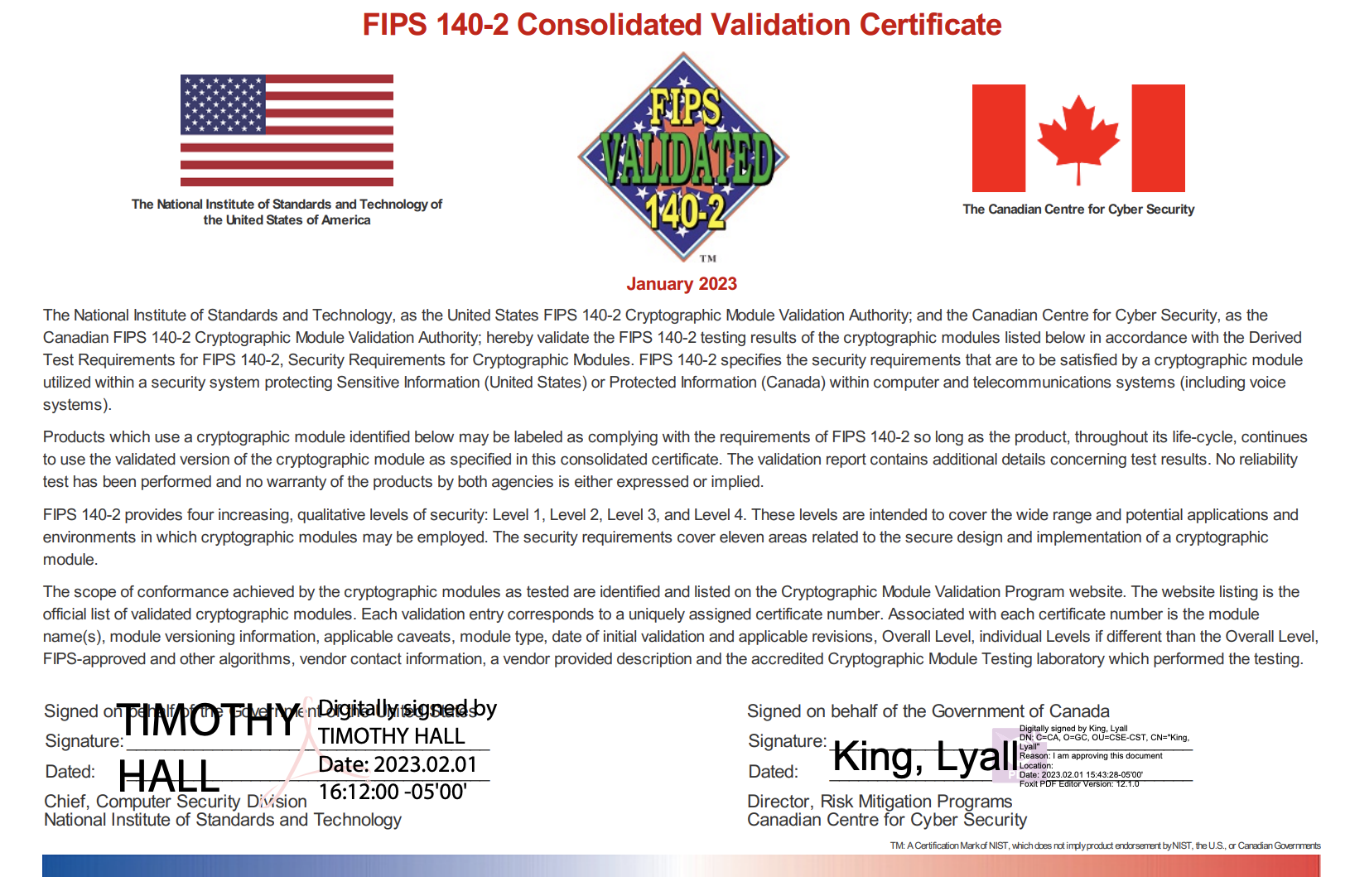 We are thrilled to announce that FEITIAN MFA Cryptographic Module has been granted the certification of FIPS-140-2 Level 2, with Physical Security Level 3 by the U.S. National Institute of Standards and Technology (NIST)!
This module is the heart of many of FEITIAN's ultra-secure hardware authenticator products – including ePass FIDO NFC Plus, iePass FIDO, and BioPass FIDO Plus series*. With this latest FIPS certification, our customers can continue to enjoy these easy to use products without sacrificing high levels of security. Now these products also meet the highest authenticator assurance level 3 (AAL3) of NIST SP800-63B.
At FEITIAN Technologies we always strive to achieve the best product quality with the highest standard of security. Previously, with certificate #3979**, BioPass FIDO security keys were FIPS certified for FIDO2/U2F in July 2021 (before the physical security levels were defined). Now we are proud to share the news that NIST validates our continuous effort to uphold highest security standards.
About FEITIAN MFA Cryptographic Module and related products...
This module is a single chip embodiment implementing the JavaCard and Global Platform operational environment with a card manager, that is also considered an Issuer Security Domain (ISD), and five applets.
This latest FIPS certification covers the following products: ePass FIDO-NFC Plus (USB-A/USB-C), iePass FIDO (USB-C + Lightning) and BioPass FIDO series with PIV (USB-A/USB-C).

**Certificate #3979: BioPass FIDO K26 and K27.
* Certificate #4422: ePass FIDO NFC Plus K9D, ePass FIDO NFC Plus K40, iePass FIDO K44, BioPass FIDO K45, K49, K50.
About FEITIAN

Founded in 1998, FEITIAN Technologies has its US headquarters in Santa Clara, CA. The company is dedicated to building a full range of strong authentication, identification, and payment solutions using a variety of Security Key and Smart Card formfactors. FEITIAN is a member of Microsoft Intelligent Security Association (MISA), a Board Member of the FIDO Alliance, and is a Technology Partner for Google. FEITIAN is a leading worldwide provider of Fingerprint Biometric Passwordless Authentication. Globally, the company has over 1,000 employees, more than half of whom are focused on research and development. FEITIAN serves clients in over 150 countries with leading enterprise, financial, telecom, government, education organizations.