FEITIAN Changing the Landscape of POS with Hardcore Technology
Beijing, China — Feb 26, 2021 — This year's Europe's Largest Merchant Payments Conference—MPE was held virtually from Feb.22 to 25. FEITIAN IOT&Payment Business Unit CMO, Mahaveer Shah delivered the speech titled "The Changing Landscape of POS". In his speech, Mr. Shah answered the mostly asked questions of smart POS such as "Why Android?" and analyzed the drivers of the changes of POS landscape with insights, and presented FEITIAN smart payment solutions to global customers for the first time.

As early as 1879, when the first cash register was invented, the technical evolution of transaction has begun. With technological development, the process of payment acceptance has been connected with more and more value added functions, such as printing of receipt to record sales transactions. When Android operating system was introduced to the cash register field, the revolutionary changes in the payment industry happen and more possibilities are being added.

FEITIAN as a listed company in China and one of EMVCo Board of Advisors (BoA), has always followed the latest technology trends, like Android 10 OS, high voltage battery and Qualcomm quad-core processor etc. to provide the best cost-effective, secure, flexible payment terminals and solutions. During the four days' event, FEITIAN presents its flagship smart POS F20, F100, F300, ePay600 and T10.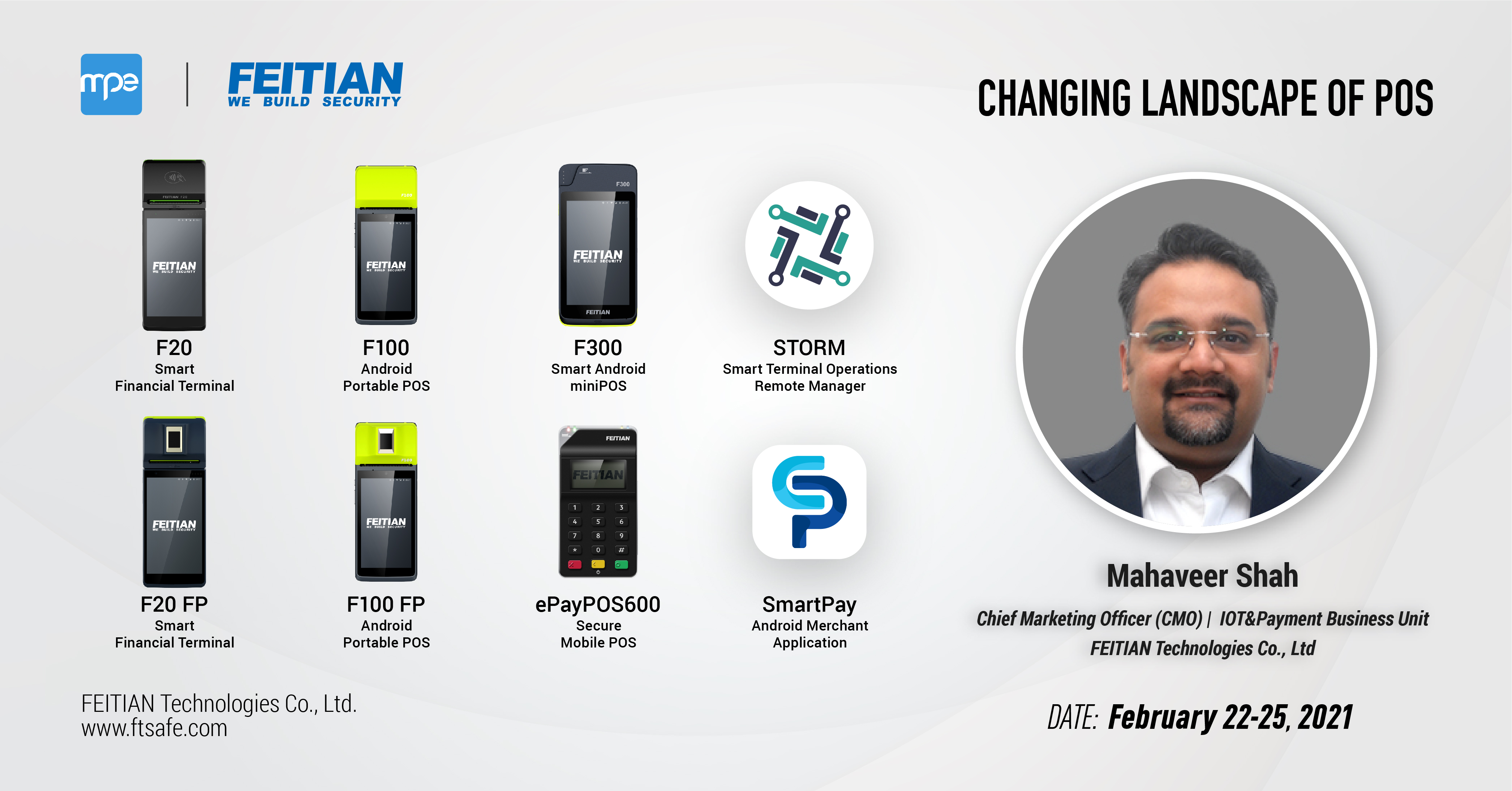 What makes FEITIAN smart POS standing out from the rest is its unique strength of secured Android OS in payments. FEITIAN security smart POS are based on our intensive understanding of the Android Security Standards, Payment Standards, the PCI Security Requirements etc., as they offer high security solutions from software and hardware design all the way to implementation. The security solutions, all the way through devices' whole lifecycle, protect applications and data, bring safe and efficient services to customers and partners, and help businesses become more successful with strong security solution support.

Apart from the payment terminals, FEITIAN also provides an all function APP—SmartPay to provide one-stop payment and store management services to global customers. On this year's MPE, SmartPay has been shortlisted as Best Omni-Channel or Multi-Rail Payment Solution by the MPE independent judges.

During the 4 days' event, FEITIAN presented the next generation TMS platform-- STORM -- Smart Terminal Operations Remote Manager, which supports traditional POS, Android Smart Phones, Android POS and mobile POS, by combining multiple systems and to support different types of devices, as well as mPOS devices that make use of Android technology.
As Mr. Sha pointed out in the speech that the changed market infrastructure, application of new technologies such as Android OS, new regulatory initiatives and changed customer behaviors are driving the changes happen in the POS landscape. For banks and acquirers, it is time to catch up the changes and upgrade business with new and smart solutions. As a leader of the industry for more than 20 years, FEITIAN will continue to serve global customers with secure, flexible, agile and world-leading payment solutions and bring advanced Fintech.

About FEITIAN

As a listed company in China, FEITIAN has been devoting into providing secure financial solutions for worldwide customers for 22 years and in more than 100 countries. FEITIAN aims to build security for customers and has world-leading technology and experience in secure hardware designing and software development. The continuous high investment in R&D and the deep understanding of customer needs over the past 20 years have enabled FEITIAN to continuously develop diversified types of innovative products with international patent rights and certifications. FEITIAN follows the latest technology trends, like Android 10 OS, high voltage battery and Qualcomm quad-core processor etc., and combines with our world-leading R&D capabilities to offer the best cost-effective, secure, flexible payment terminals and solutions. To meet the demands of different application scenarios, FEITIAN provides a full series payment terminals from financial smart POS to QR code scanning box to NFC card reader etc.