Feitian Java card platform FT-JCOS based on Infineon security chip SLE77 obtains International CC EAL 5+ certificate

26th September, 2018
BEIJING, CHINA - Recently, Feitian Java card platform FT-JCOS based on Infineon security chip SLE77 obtains international CC EAL 5+ certificate. It proves again that Feitian Java card platform security technology and management has both reached the international advanced level.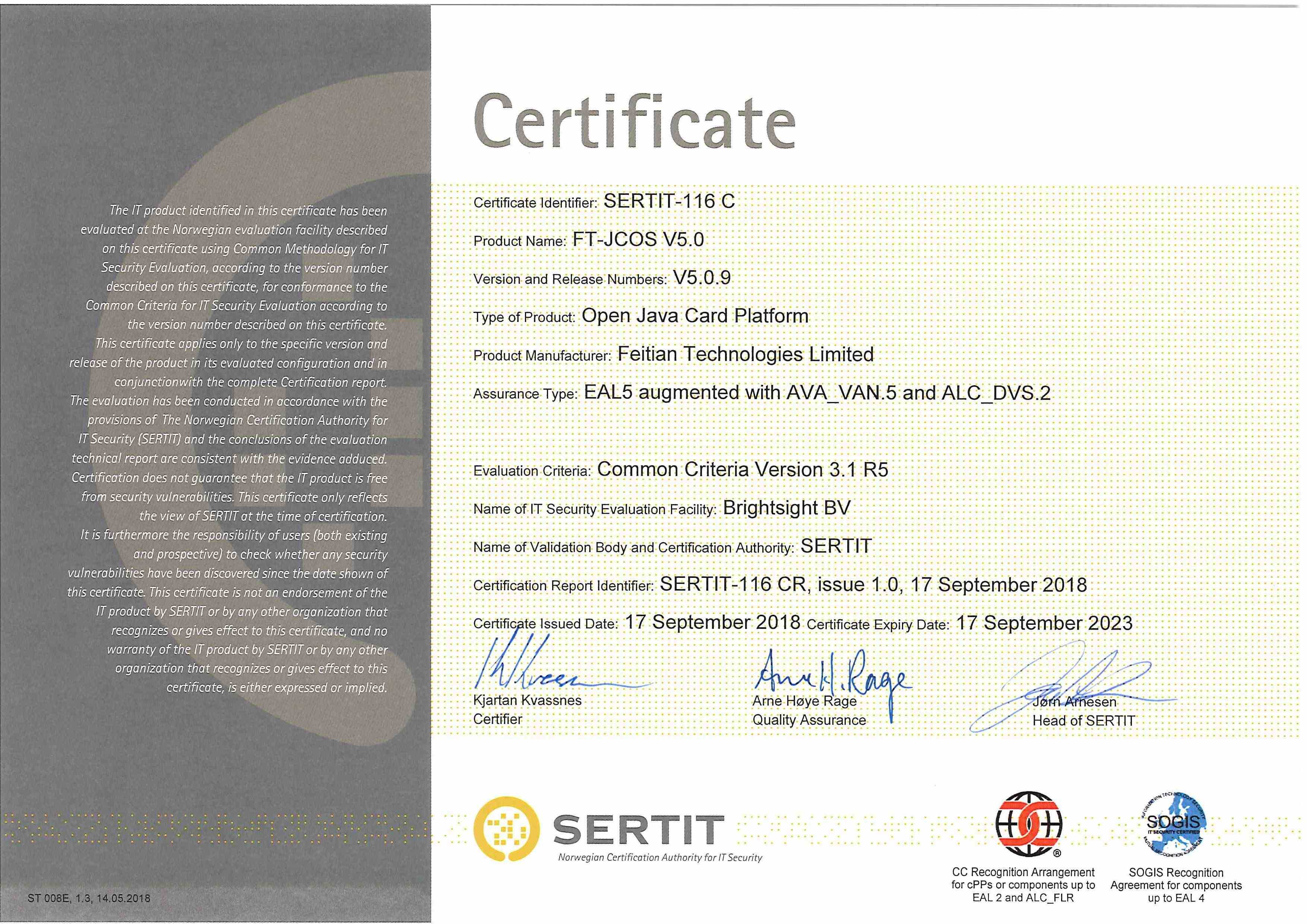 We know that CC is accredited worldwide in IT products. Compared to the CC EAL 4+ testing standard, the CC EAL 5+ have higher level of security requirements and the testing standards are more stringent. Feitian Java card operating system platform FT-JCOS has strong security features. It could not only resist common attacks such as voltage, frequency, temperature, laser, profile and other invasive semi-invasive attacks, but also can effectively prevent the leakage caused by the electromagnetic field monitoring which is the so-called side channel attack (SCA). It could even resist high-level template attacks. It takes only 7 months for Feitian to obtain CC EAL 5+ certificate. The related certificate and testing report has been announced on SERTIT and CCRA official website.


Smart card plays an important role in people's daily lives so that smart card security is important for the public. CC EAL 5+ certification proves that Feitian smart card products have reached high security level and makes Feitian products more competitive in global market. At present, Feitian JAVA smart card operating system platform FT-JCOS has been compatible with dozens of chips from domestic and international chip vendors, and has passed a number of authoritative certifications such as EMVCo, FIPS, GlobalPlatform, UnionPay embedded software security, CC EAL4+, etc.


Infineon SLE77 security chip has stringent security requirements for the operating system. The acquisition of CCEAL5+ certificate based on Infineon SLE77 security chip demonstrates the high level of professionalism and outstanding technical level of Feitian in the field of information security.


About FEITIAN


FEITIAN Technologies Co., Ltd. is dedicated to cyber security industry and provides a full range of authentication and payment products / solutions.