FEITIAN and China Everbright Bank released the bank's very first Dynamic CVC Credit Card.
BEIJING, CHINA - April 13, 2018 -FEITIAN and China Everbright Bank released the bank's very first Dynamic CVC Credit Card.

Dynamic CVC card is a member of FEITIAN Display Card family, it has an onboard electronic screen displays the CVC (Card Verification Code) that refreshes from time to time.

CVC is an anti-fraud measure used when holder is making a purchase but isn't required to enter a PIN or sign a receipt. On traditional credit cards, CVC is printed and fixed on the surface, and not quite difficult for others to see and remember it. With a fixed CVC and other visible card credentials (e.g. card number, expire date, and holder name), card fraud could happen more easily than you can imagine.

Dynamic CVC on the other hand, secure the credential by refreshing CVC from time to time, even if someone acquires a valid CVC by any means, it won't be usable minutes later, therefore reduces the chance of card fraud.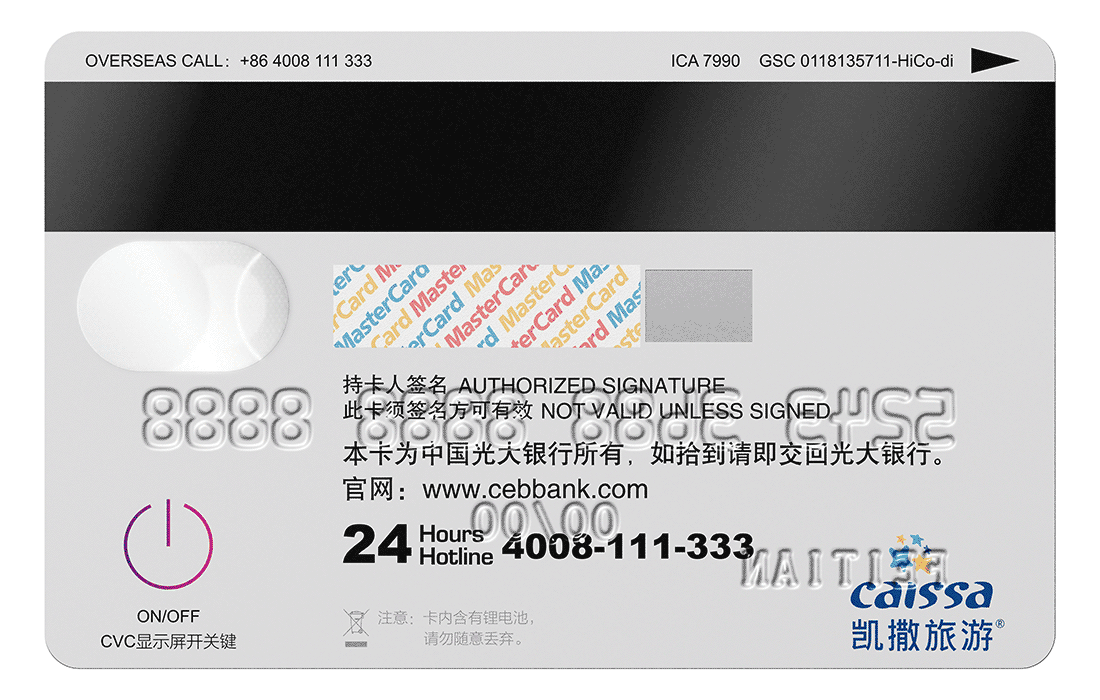 China Everbright Bank's Dynamic CVC Credit Card embeds a button to power up and shut down the electronic screen, further reduces the risk. Built-in flexible lithium battery ensures a lifetime up to 5 years. Combined with contact & contactless technology and upgraded secure algorithms, China Everbright Bank's Dynamic CVC Credit Card is the ideal credit card aimed for future payments.

About China Everbright Bank

China Everbright Bank, headquartered in Beijing, China, was founded in 1992 and is one of twelve Chinese joint-stock commercial bank. China Everbright Bank provides financial services to retail and corporate clients in Mainland China, Hong Kong, and South Korea. It operates through Corporate Banking, Retail Banking, Financial Markets and Interbank Business segments. The company operates 1,196 branches and 1068 outlets covering 129 economic center cities across the country. It was ranked in 139th in 2016 Forbes Global 2000 publicly held companies.

About FEITIAN

FEITIAN Technologies is a public company incorporated in China (SZSE: 300386). Headquartered in Beijing in 1998, the company has consistently been ranked as the leading security supplier of online user authentication and payment transaction with our easy-to-use, strongly-secure, hardware-based turnkey solution. FEITIAN's international business served customers in over 150 countries.

Dedicated commitment to protect identity and secure access to online applications has been company's focus since it was established. With the leading role of online security device provider, FEITIAN company serves global customers with its professionalism, technology expertise, vast experiences and the comprehensive strength in multi-factor authentication, FIDO U2F and FIDO2, public key infrastructure (PKI) initiatives, online banking, mobile identification, cloud authentication, EMV payment card & terminal, powered smart card featuring dynamic code display, BLE connection and biometric authentication, and advanced crypto & key management.