A Strong Biometric Security Key Released by FEITIAN Technologies
BEIJING, CHINA and SANTA CLARA, CA – April 10, 2018 – FEITIAN is excited to announce that a new series of FIDO Security Keys which supports FIDO2 specification is launched today to empower the new era of ubiquitous, phishingresistant, strong authentication.

With 20 years of experience in the strong authentication and digital security, FEITIAN offered proven expertise across the full spectrum of end-to-end solutions, enabling authentication choice to meet the diversified needs of users and organizations.

As one of board members of FIDO Alliance, FEITIAN is committed to continue in the FIDO spirit to push for an open, scalable, and interoperable mechanism with seamless compatibility that supplant reliance on passwords to securely authenticate users of online services. With the new Major Standards Milestone achieved by FIDO Alliance and W3C, we can now accelerate our vision and continue our dedication to the FIDO2 specifications through the targeted development and production of FIDO2-enabled security key devices for strong user authentication that completely reduce the problems associated with passwords.

Security Key for Windows Hello

FEITIAN has worked closely with Microsoft to provide a ubiquitous, hardwarebacked logon experience through Windows Hello. For enterprises who use passwords today and have a shared PC environment, security keys for Windows Hello provide a more seamless way for employees to authenticate without entering a username or password.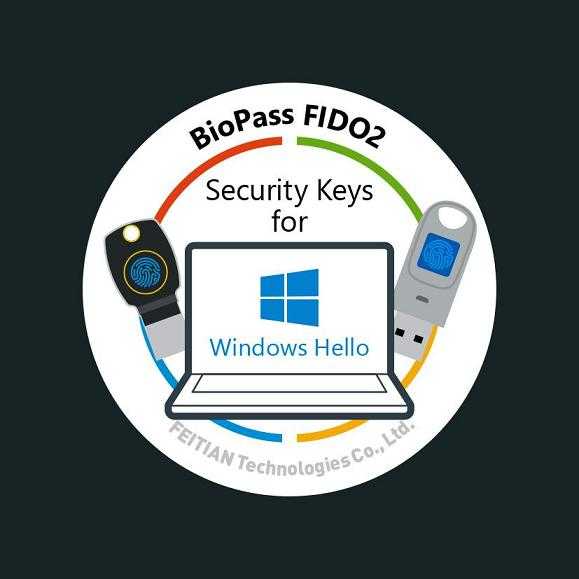 FEITIAN BioPass FIDO2 Security Keys

BioPass FIDO2 is a series of security keys built on FIDO2 specification that supports strong hardware-backed authentication with added biometric security. The embedded security chip of BioPass FIDO2 Security Key includes an advanced security architecture which was designed and developed to encrypt, store and protect your fingerprint data. It isn't possible for someone to reverse engineer your actual fingerprint image from this stored data.

BioPass FIDO2 Security Keys enable multiple authentication scenarios for users:
• Using biometric as a hardware backed two-factor authentication to support completely passwordless experience. • Strong biometric together with Client PIN for higher assurance requirements.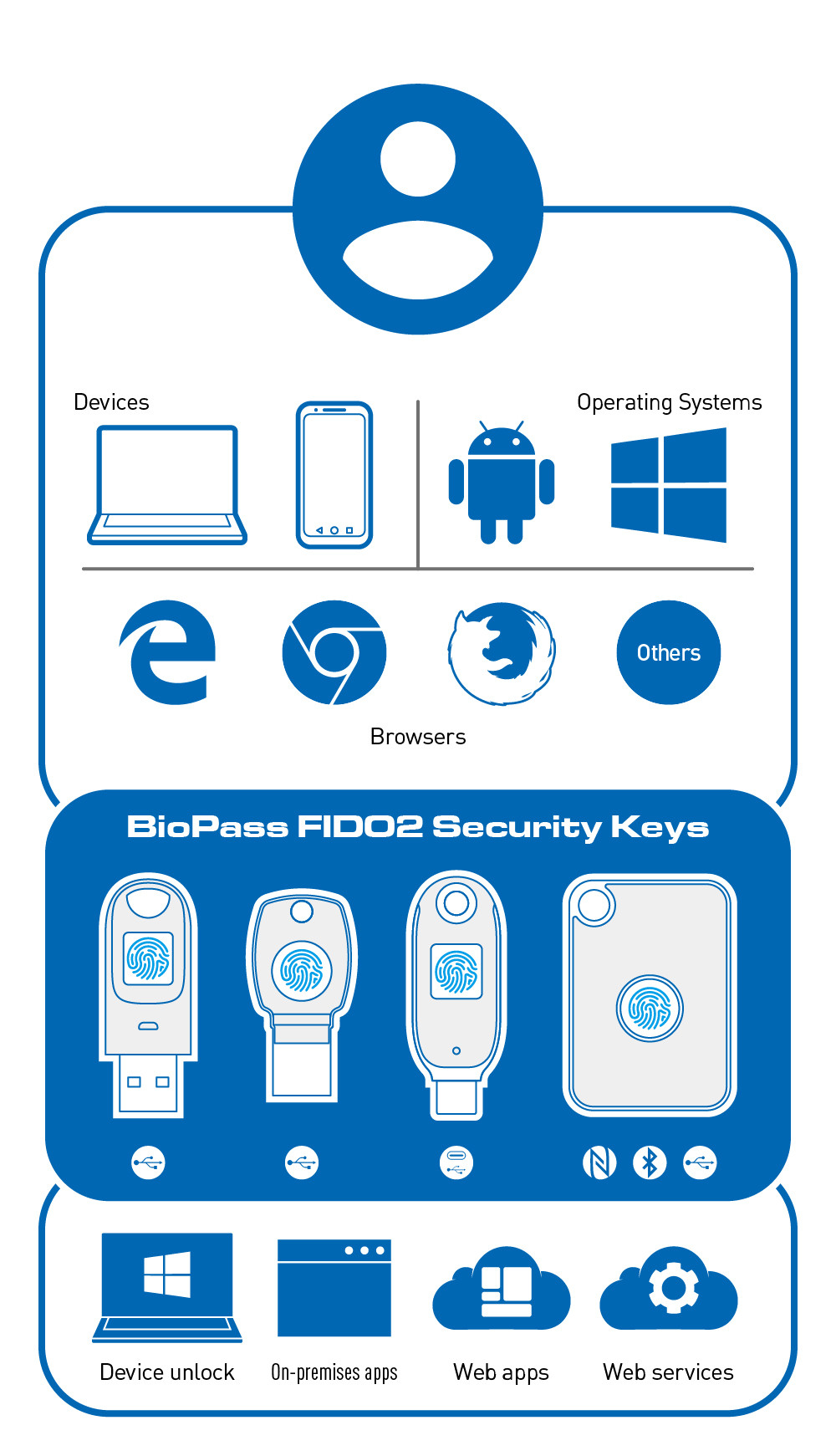 What is FIDO2 Project

The FIDO2 new specifications complement existing passwordless FIDO UAF and second-factor FIDO U2F use cases, and expand the availability of FIDO Authentication. FIDO2 web browsers and online services are fully backwards compatible with all previously certified FIDO Security Keys. The standardization of the new FIDO2 specifications in browsers and operating systems will further expand the reach of FIDO Authentication, which is referenced by regulators and standardssetting bodies worldwide and is already available on hundreds of millions of devices and offered to more than 3.5 billion user accounts worldwide.

"With the new FIDO2 specifications and leading web browser support announced today, we are taking a big step forward towards making FIDO Authentication ubiquitous across all platforms and devices," said Brett McDowell, executive director of the FIDO Alliance.

With FIDO2 new specification and FEITIAN BioPass FIDO2 Security Keys, users can enjoy a safer authentication via one single touch and enhanced security and privacy. This stronger authentication scheme will be integrated into safety-critical verticals including enterprises, healthcare, finance and governments.

FEITIAN will demonstrate the BioPass FIDO2 Security Key and its primary new functionality for Windows Hello at the RSA Conference 2018, booth South Hall #1927.

About FEITIAN

FEITIAN Technologies is a public company incorporated in China (SZSE: 300386). Headquartered in Beijing in 1998, the company has consistently been ranked as the leading security supplier of online user authentication and payment transaction with our easy-to-use, strongly-secure, hardware-based turnkey solution. FEITIAN's international business served customers in over 150 countries.

Dedicated commitment to protect identity and secure access to online applications has been company's focus since it was established. With the leading role of online security device provider, FEITIAN company serves global customers with its professionalism, technology expertise, vast experiences and the comprehensive strength in multi-factor authentication, FIDO U2F and FIDO2, public key infrastructure (PKI) initiatives, online banking, mobile identification, cloud authentication, EMV payment card & terminal, powered smart card featuring dynamic code display, BLE connection and biometric authentication, and advanced crypto & key management.